Our story
We create personalized bedtime stories to build confidence, one book at a time.
We've always been in awe of a child's imagination. Humanity is special for its ability to think abstractly, but at some point we lose the ability to think magically. Children, on the other hand, are imagination wizards. In our admiration of children's ability to see life through that anything-is-possible lens, we created this storybook project.
My Magic Story is a line of personalized books by The Story Tailors. Our goal is to create books that make kids adore reading and learn values they'll integrate for a lifetime. Each book is custom-made to nurture self-confidence. They develop a love for reading through magical illustrations and characters based on the children themselves. Personalization motivates the children to dive deep into reading and immerse themselves in a feel-good world of extraordinary friends.
How it all began...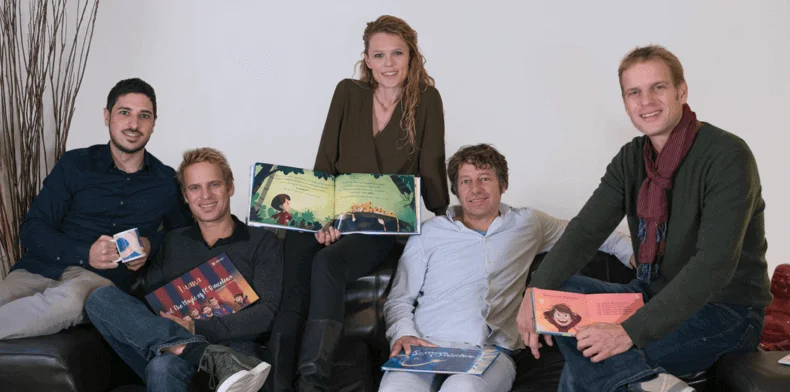 It all started in 2015, when an international group of friends got together in sunny Barcelona with a mission to create something special. They dreamt of a unique book where children could star as heroes of a magical story. Combining their creative backgrounds, a love for a good story and their knack for making kids smile, they launched this project that would forever change their lives.
The Magic of My Name was born that year. It's a book that tells a personalized story based on the letters of a child's name. Every single story is unique, just like children are. When kids become the hero of the story, they learn to love reading. On top of the beautiful imagery, the story teaches important, lifelong values like friendship, generosity, and perseverance. The characters can be designed to look just like the child. On top of that, each letter of the child's unique name is given a positive attribute and story.
We dreamt of those ear-to-ear smiles of a child who feels like a hero. And it finally came true.
It was so wildly successful that we sold half a million books. Our team slowly grew and began expanding globally. We now offer the book in more than 20 languages across 40 different countries.
In our mission to create magical stories that nurture confidence and strong values, we launched new kinds of books and stories. Our technology works like magic: now, anybody can create custom stories, personalized by name, date or character.